EDIT MAIN

---
Parents and Students - Schedule Changes

Please complete this form with the class that you would like to drop as well as the class you would like to replace it with. The master schedule that is posted on the Bagley High School website will help guide you in this decision.
All schedule changes will be considered and requests will be granted whenever possible. Students must be aware that schedule changes will not be granted if the class is full or if there is a conflict with one of their core classes. Students will be contacted via email if the schedule change request is denied.
This year has definitely been different than any other, but we hope that together we've created a positive learning experience despite the challenges we face. If you have any questions please feel free to call the High School Office at 218-694-3120.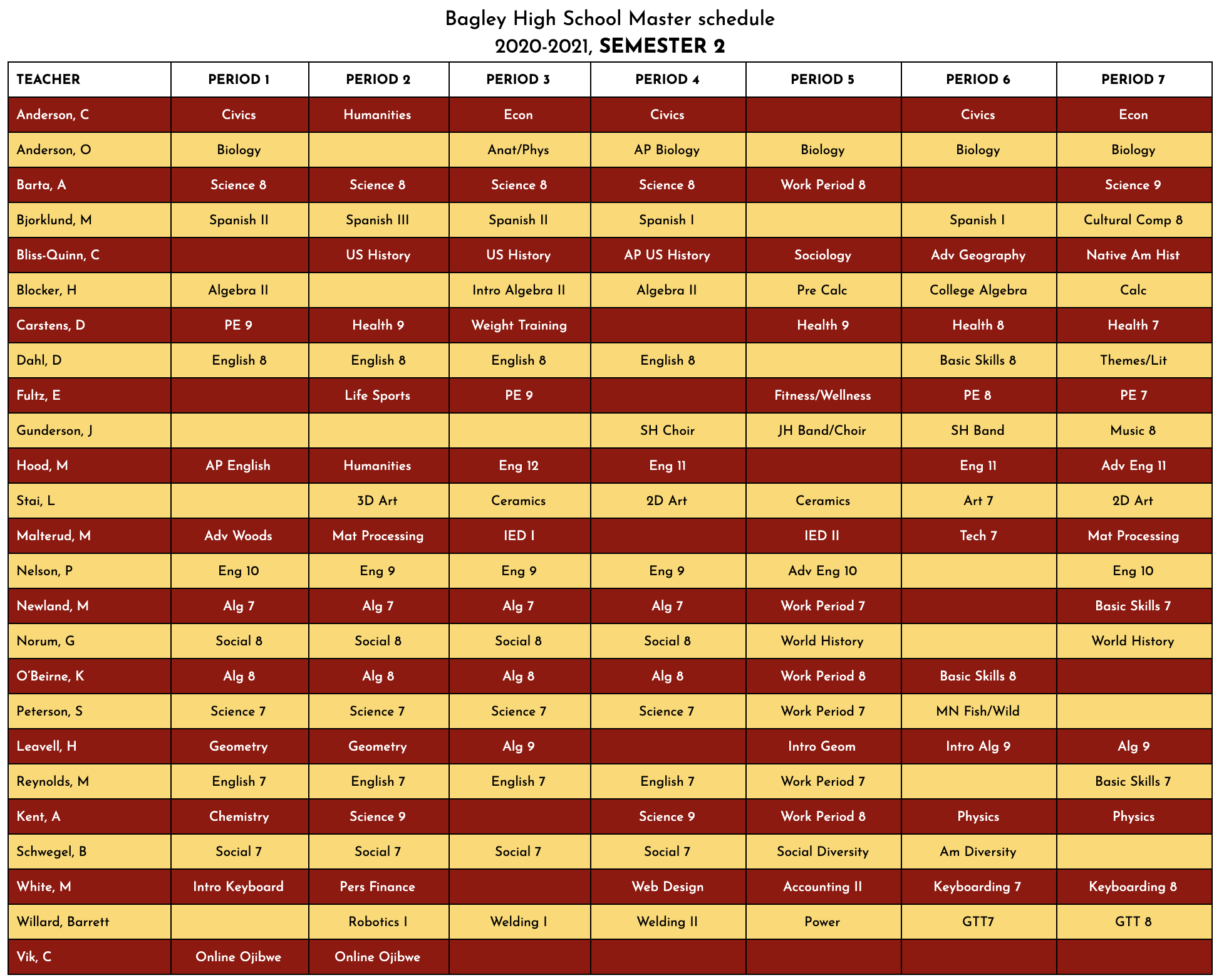 Attendance
During this time of distance learning we are asking that students continue to follow their daily schedule. Each day you will need to have some contact with your teacher to be counted for daily attendance. Here are ways to connect with your teacher that will be counted for attendance:
Email them before 3:00.
Attend a Zoom session if one is available.
Turn in an assignment before 3:00 if one is available.
At Bagley High School we appreciate the effort that you are putting into ensuring that your child is engaging in their academic work during these unprecedented times. We believe that daily attendance is critical in academic success, however, we ask that you please notify the school if your student is unable to attend during the school day. This notification can occur either by contacting the Bagley High School office at 218-694-3120 or through the below link.
ABSENCE NOTIFICATION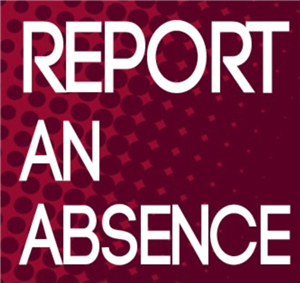 Use this link to report an absence!
Tips and Expectations for Students
Find a quiet place to work and create a daily routine.
Check your email and Google Classrooms daily. Assignments/instructions will be posted there. -Keep up with daily work and be in contact with teachers.
You are expected to put in a full day of distance learning during the school day. Teachers will be following their daily schedule for class times. Please see the Daily Schedule listed below and follow your classes according to your schedule.
You are expected to be working on school work and not work at a job during school hours unless it is part of your school curriculum (Work Experience).
Tips for Parents
Help provide your child with a space conducive to learning.
Check Google Classroom daily for assignment progress.
Check grades in ParentVue regularly.
Your child's school day will run during the same time as in-person learners. Please make sure they are getting enough rest to be ready to learn each day.
Distance learning can be challenging. Check-in with your child not only on school work but how they are doing emotionally. There is support available at the school. Contact Belinda Schermerhorn, School Counselor. (bschermerhorn@bagley.k12.mn.us)
Tech Tips
Keep your Chromebook charged.
Avoid eating or drinking around your Chromebook.
Close extra tabs on your Chromebook that may be streaming audio or video especially when Zooming to help with bandwidth and Chromebook performance.
Contact Brenda Dukek, Technology Coordinator (bdukek@bagley.k12.mn.us) or Troy Reynolds, Technology Integrationist (treynolds@bagley.k12.mn.us) for technology assistance.